Hey, Girl!
I'm inviting 30 of you to join me on
December 19-22, 2019 in Montego Bay, Jamaica
for a one of a kind "girls-trip" group travel experience.
Dates: Thursday, December 19 to Sunday, December 22, 2019
What's included:
4 day, 3 night stay at the RIU Reggae 5 Star Resort
Airport pickup & drop off
Unlimited meals and drinks (all-inclusive resort)
Welcome Dinner
Exploring Natural Beauty Haircare and Skincare Retreat
Fros In Focus Goal Setting Event
Transportation to group excursions
Amazing gift bag provided by your favorite brands
Trip photographer
Access to our private travel group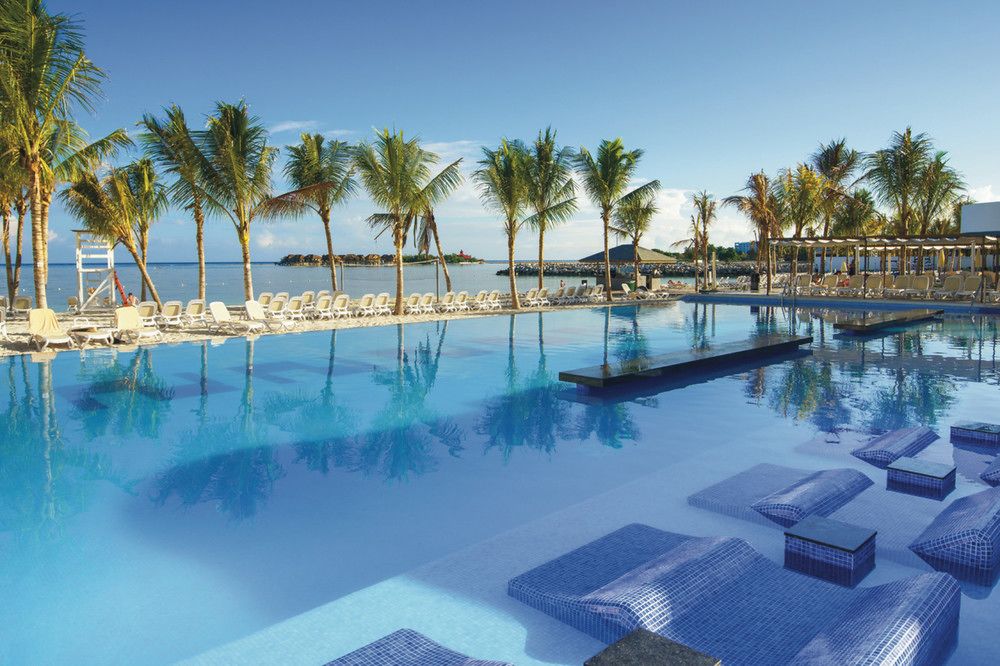 the resort
RIU Reggae All-Inclusive Resort
The Riu Reggae, a 5-star hotel, in Montego Bay will be hosting our group. Located right on the beach and surrounded by incredible nature the Riu Reggae is a new, all-inclusive adults only hotel. We will enjoy authentic Jamaican cuisine, delicious Italian and Asian dishes, and the best beef at our Steakhouse. The resort has three bars where you can enjoy all types of adult beverages and appetizers. Best of all you can enjoy the best nightlife just a few yards away at Club Pacha.
itenerary
Thursday, 12/19/19
Arrive @ RIU Reggae- Montego Bay, Jamaica
Group Dinner
Friday, 12/20/19
Exploring Natural Beauty with Joi
Saturday, 12/21/19
Fros in Focus Goal Setting Session
Optional Group Excursion
Sunday, 12/22/19
Depart for airport


More events to come!
Pricing
Price per person: $650.75
Reserve your spot now for only $100 and our payment plan:
$100 per person deposit is required to secure room
*yes, you can catch up on the payment plan! spots are still open*
June 14- $110.15 due
July 12- $110. 15 due
August 16- $110.15 due
September 13- $110.15 due
October 11- Final Balance due
Please note: Paying your deposit promptly is highly suggested due to limited availability, we are only accepting 30 people on this trip.
Please note: Flights are not included in the price, since we will all be coming from different cities!
faqs
WHAT IS THE AGE LIMIT?
We are staying at an adults resort where guests must be 18+
WHAT IF I LIVE IN JAMAICA?
The trip price includes accommodations + activities, so you can still book on this website and travel to the resort by the most convenient way for you!
ARE FLIGHTS INCLUDED? WHERE CAN I GET AN AFFORDABLE FLIGHT?
Flights are not included in the price, it is your responsibility to purchase your own flight for the trip. I would suggest purchasing your flight early to save money, also check out Sky Scanner and Kayak for cheaper flight options. Another tip is to check the flight prices from cities in Florida to Jamaica and find a flight from your departure city to there.
WHAT APPS DO I USE TO FIND CHEAP FLIGHTS?
Google Flights, Expedia, Kayak & Skyscanner are my go to for finding reasonably priced flights. Also remember Southwest Airlines flies into Montego Bay but their flights are not listed on these search engines (you need to go directly to their website to browse their options).
YOU'LL NEED TO HANDLE:
Flights - from wherever in the world you're joining us from.
Travel insurance - You are responsible for obtaining your own travel insurance. Travel insurance is not required but it is recommended. Nevertheless, it is your responsibility to research travel insurance companies in your location and select an insurer that covers any potential flight cancellations and/or medical coverage abroad.
Visas - No visas are required for US passport holders.
Spending money in USD - for souvenirs or excursions you may want to buy that are not included
CAN I COME ALONE OR DO I HAVE TO COME WITH SOMEONE?
Either or! The great thing about this #squadretreat is that it's a wonderful opportunity to connect with other like-minded travelers and make new friendships. The reason why I wanted to create this retreat is because I wanted solo travelers to be able to meet other women who loved to travel as much as they do. I wanted first time travelers to be comfortable knowing they will have a community their supporting them and living their best lives alongside them!
WEATHER IN JAMAICA IN DECEMBER
HOT!
HOW MUCH FREE TIME IS THERE?
Saturday is an entire day of free time and each day has free time outside of the scheduled event.
WHAT METHODS OF PAYMENT ARE ACCEPTED?
All payments can be made through the travel agent's website using any major credit card.
WILL I BE SHARING A ROOM/BATHROOM? WHAT ARE THE SLEEPING ARRANGEMENTS?
If you signed up with a friend you and your friend will share your own private bedroom and en-suite bathroom. If you did not sign up with a friend, you will be paired with another #squad member (yay new friends!) in a double occupancy room.

Terms
Terms and Cancellation policy:
Making reservations for this travel package signifies your acceptance of our Terms and Conditions
All payments to Tickled Pink Travel Agency, LLC are non-refundable and non-transferable
Reservations must be made in your FULL NAME as it appears on your government-issued identification.
You must ensure your roommate, if applicable, is also making timely monthly payments.
Late payment of $50 per person is required after final due date. All late payment requests must be approved by management before the final payment deadline on your account.
All late payment requests must be approved by management before the final payment deadline on your account.
Name changes are allowed with a $50 name change fee.